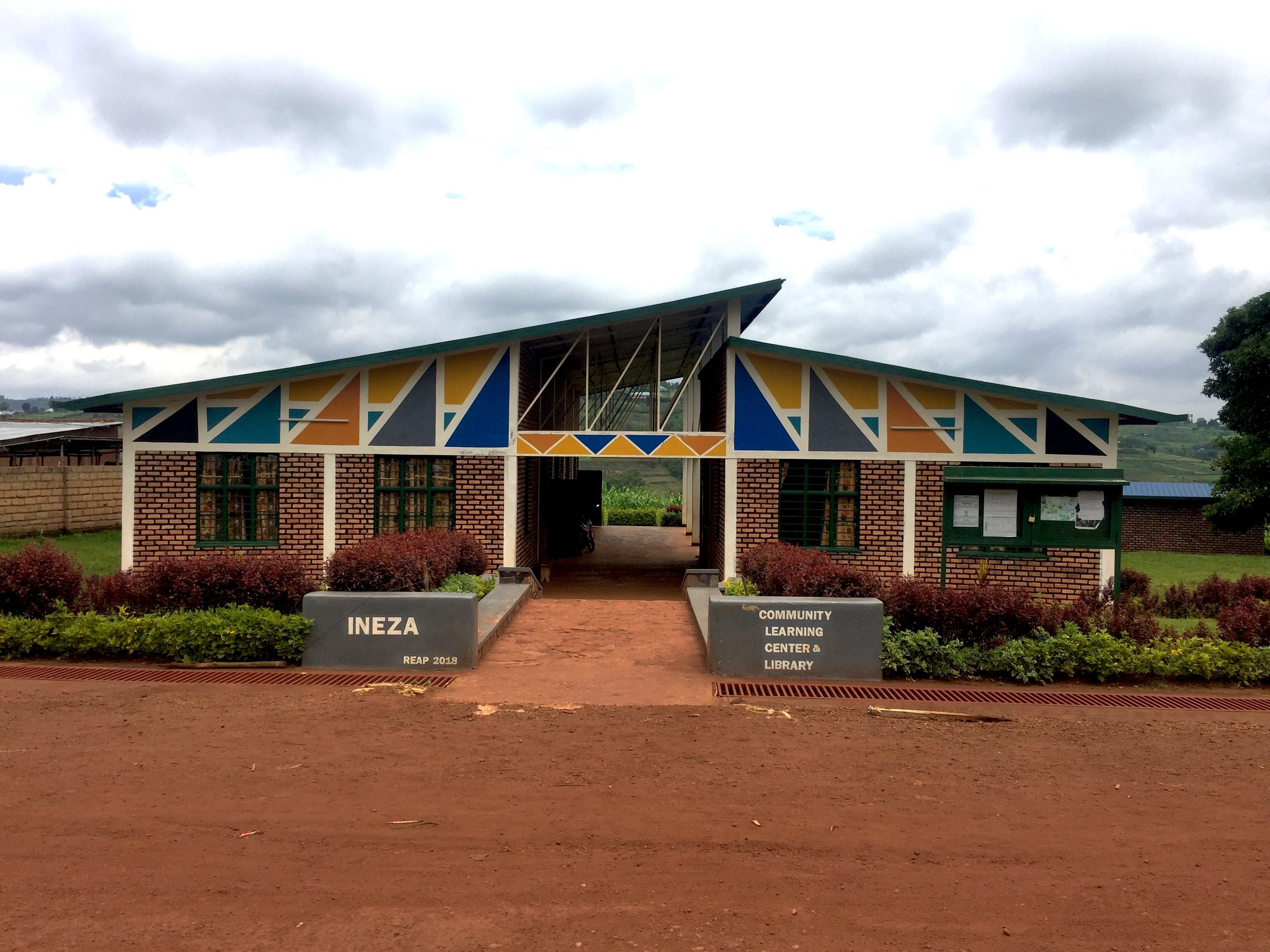 REAP believes that the success of children — and the quality of their education — and the strength of a community depend upon each other in order to break the cycle of poverty and generate opportunities for lifelong learning.

REAP's programs target children and their parents, the Duha Complex Public School, and the surrounding communities of Duha and Akabare. By focusing on a rural area of 7,000 people, we are creating the conditions to reweave the fabric of these communities.
Community Learning Center and Library
The Community Learning Center and Library (CLCL) — close to the Duha school and at the crossroads of the village of Musha — maximizes the participation of students, parents, and the surrounding community. It is designed to increase instructional time for primary school children, who attend school for only a half day, and more fully engage parents in their children's learning.
Community Board
REAP, in partnership with local Rwandan government representatives, has formed a board of 12 volunteer community members and Duha School teachers. The board meets at least twice a month at the CLCL and reports to REAP and the government. Volunteers design and implement community mobilization efforts at the CLCL as well as ensuring the center's security and maintenance.
Sustainable Agricultural Development
The farm is a community vegetable and fruit garden on CLCL grounds that teachers and parents manage. It is a model of modern and productive farming techniques. The farm helps to create a more sustainable community by providing seedlings to community members who can readily plant them in their small plots of land to generate a quicker, healthier harvest. The farm also produces food that supplements the meal program for 100 students participating in REAP's literacy programs.
Girls' Empowerment
REAP recognizes the obstacles Rwandan girls face and strives to build their leadership skills. In that regard, REAP offers several programs, including Girl Guides, which teaches entrepreneurial skills through the Piglet Project, in which girls raise and sell piglets towards financial independence; and the TUSEME (To Speak Out) Club and Sexual Health and Reproduction Education (SHRE), an advocacy and messaging effort focused on sexuality, pregnancy, and HIV prevention, topics presented through community performance and discussions.
Adult Kinyarwanda Literacy
The CLCL is the site of two weekly weekend classes, each with 22 students and led by expert reading and writing instructors, that help adult community members become proficient in reading, writing, and mathematics.
Adult English Literacy
Jobs increasingly require English language speaking and listening skills for employment. In response to this demand, REAP launched an English language training program for adult community members. Two six-month training sessions, with 30 participants each session, provide intensive English language instruction. Friday sessions, which run from 1-3 P.M. focus on foundational English; on Wedensdays, from 1-3 P.M., learners practice basic English for everyday communication.
Parent Evening
This weekly three-hour meeting engages all parents in the community in discussions about household issues like marital conflicts, domestic abuse, alcoholism, children rights, and micro-savings, and circumstances that affect a family's well-being and left unaddressed, impede young people's academic potential. The community selects parent volunteers who take turns leading these meetings. REAP staff occassionally run workshops on skills that include effective group facilitation and community mobilization.